Alabama Women's Hall of Fame
Alice Lee (1911-2014)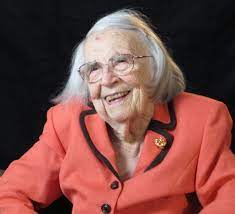 Born in Monroeville, Alabama on September 11, 1911, Alice Lee was believed to be the oldest practicing lawyer in the country when she retired at age 100 in 2011. She was the oldest child of Amasa and Frances Finch Lee. Alice Lee graduated from Monroe County High School at the age of 16, and then attended Huntingdon College. After working in her father's newspaper office during the Great Depression, she moved to Birmingham to work for the IRS. While there, she attended Birmingham School of Law at night. When she passed the bar in 1943, she became one of Alabama's first female lawyers.
In 1944, Alice Lee joined her father's law firm in Monroeville, and dedicated her life to her practice and to volunteer work in the Methodist Church. She was the first woman to serve on the Monroeville City Planning Commission, and did so for decades. Alice Lee was the first woman to chair the Alabama-West Florida Council on Ministries in the Methodist Church, and the first woman to chair the Board of Directors of the United Methodist Children's Home. She was also a charter member of the Board of Directors of the Alabama/West Florida United Methodist Foundation. In her spare time, she volunteered 100+ hours in the Monroe County Hospital Auxiliary and taught adult Sunday School classes for 60+ years at Monroeville United Methodist Church.
In recognition of her contributions to the field of law, Huntingdon College awarded Lee an honorary Doctorate of Laws in 1984. Her work for the Methodist Church was recognized in 1992, when the Alabama-West Florida Conference of the United Methodist Church established the Alice Lee Award to be given to women who have provided outstanding leadership in the United Methodist Church. Alice Lee was awarded the Maud McClure Kelly Award by the Alabama Bar Association in 2003, and received a special honor from the Alabama Bar in 2004. Eight years later, Alice Lee was nominated to the Alabama Academy of Honor by her sister, Pulitzer Prize Winner Nelle Harper Lee, and was inducted that same year. Alice Lee received proclamations from multiple elected officials at the local and state level to commemorate her 100th birthday in 2011, and passed away in 2014 at the age of 103.

Other Inductees


Alabama Women's Hall of Fame

2005 Alabama Women's Hall of Fame