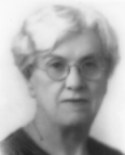 Mrs. Elizabeth Burford Bashinsky embodied the words which mean mother, educator, church woman, writer, orator, club woman, philanthropist, and lady.
A native of Dixon Springs, Tennessee, Elizabeth Burford Bashinsky was born the youngest of six children of Major Robert Allen Burford and Mary Elizabeth Lowe Burford. She graduated with honors from Columbia Institute, Tennessee and moved to Troy, Alabama as an elementary teacher at the Troy State Normal School in 1888. After teaching two years, she married Leopold M. Bashinsky. They were the parents of three children.
Even though she retired from teaching upon her marriage, education remained the driving force of her life. She was instrumental in establishing a scholarship program in 1915 through the United Daughters of the Confederacy which continues to help educate Alabama youth today. Not only did she ensure monetary means for educating young people, she also gave of her time and her home. In 1930, she served on the National Advisory Committee on Illiteracy. In addition, she chaired the Ways and Means Committee of the illiteracy group in Pike County and persuaded the county to finance twelve schools. She opened her home to students attending Troy Normal School during the Depression years of the 1930's, thus enabling many students to remain in College. During the war years of 1940-1944, two young girls from England resided with the Bashinsky family.
Elizabeth Bashinsky was active in the Women's Missionary Union of the First Baptist Church of Troy and also on the State Executive Board. She and her family were ardent supporters of the Baptist Children's home at Troy. As a Baptist and as one who placed much emphasis on education, Mrs. Bashinsky served as a trustee of Judson College for forty years.
Dr. C. B. Smith, former president of Troy State, said of her that he could "think of no other woman who served other people so well and over so long a period of time." So dedicated was she to education that both the University of Alabama and Judson College awarded her the Algernon Sidney Sullivan Award for noble human qualities.
She served as president of many civic and service organizations, including president of the United Daughters of the Confederacy on the local, state, and national levels. As an active participant in the federated club movement in the early days of this century, she won a number of their writing awards. There are short poems which carry the initials E. B. B. Her accomplishments also included being a gifted speaker wiling to speak on anything from her beloved South to "The Moral Effects of George Eliot's Works."
In a speech before the Alabama Baptist Convention in 1929, she said of young people and especially of young women, "Their future possibilities are our present responsibilities, and what potential possibilities are wrapped up in those latent powers."