Alabama Women's Hall of Fame
Bessie Morse Bellingrath (1878-1943)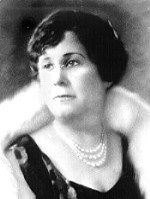 Bessie Morse Bellingrath's tireless energy and love of beauty played a predominant part in the masterpiece of Bellingrath Gardens and the establishment of the Bessie Morse Bellingrath Collection of antique furniture, Old English silver, rare porcelains, and fine china. For her achievements, she was made an honorary member-at-large of the Garden Clubs of America.
Bessie Morse Bellingrath was the wife of Walter Bellingrath who founded the Coca Cola bottling company in Mobile. The Bellingrath Gardens and home, one of Alabama's most notable and famous places of interest to tourists, owes its existence in part to her vision and hard work. Today, many visitors enjoy touring Bellingrath Gardens and the Bellingrath house unaware of Mrs. Bellingrath's achievements.
Mrs. Bellingrath was born and educated in Mobile County. She worked as a stenographer at the Bellingrath Coca Cola Bottling Company. Among her interests, once she had stopped working at the bottling company, were horticulture and antiques.
In 1918, the Bellingraths purchased land bordering the Fowl River that was and continued to be used as a fish camp, which they named Bell Camp. Mrs. Bellingrath studied outstanding U.S. and European gardens and visited them with her husband in 1927. Upon their return, George B. Rogers, a landscape designer and architect, began to work with them on designing the gardens and later, the house. She traveled throughout Alabama, Mississippi, and Louisiana in search of azalea and camellia varieties, sometimes paying too much for them as one of her quiet and singular ways of helping people in need. The gardens were opened to the public in 1932.
Mobile citizens in appreciation presented the Bellingraths a bronze plaque and bench, which were placed in the garden near the house. Bellingrath Gardens continue to be listed in travel guides as a major Alabama attraction.

Other Inductees


Alabama Women's Hall of Fame

2005 Alabama Women's Hall of Fame