A native of Mobile, Alabama, Doris Marie Bender was the oldest of four children born to Mary Frances McCafferty Bender and Theodore Jackson Bender. After the death of her mother, she helped to rear her three younger brothers and sisters. She received her Bachelor of Science degree from the University of Alabama and had graduate training in the field of social work at Tulane University and the University of Chicago.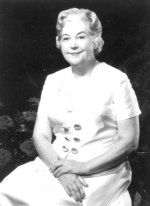 Miss Bender started her career in public welfare in 1933 with the Mobile County Relief Administration. She served as director of Public Welfare (later changed to the Department of Pensions and Security, now the Department of Human Resources) in Shelby, Macon, and Montgomery counties and worked on the state staff prior to being appointed director in Mobile County in December 1943. There she served for thirty-three years until her retirement in 1976.
During the course of her forty-three year career, she made outstanding contributions to the field of public welfare and the profession of social work. The first organized volunteer division in a county Department of Pensions and Security was started during her administration. She was on the committee which developed the Alabama Office of Volunteerism, an agency of state government, and she served on its Board of Directors. Miss Bender's vision led to the Mobile County Department of Pensions and Security Office to create an adult foster care program for the elderly and disabled victims of abuse and neglect, including self-neglect. She also initiated an adult homemaker services program that was designed to delay nursing home admission for people who could no longer provide all of their own care. Using these programs as models, the Alabama Department of Pensions and Security developed a statewide program for adult foster care which was authorized in 1972 and the statewide homemaker services program which began in 1973. She appointed the first black social worker in a county department in 1946, and was an advocate for fairness and opportunity for all, regardless of race and other differences.
Miss Bender was the first woman selected from outside the University of South Alabama staff to serve on the Admissions Committee of the USA School of Medicine, the first woman to be elected to the Board of Directors of First Southern Federal Savings and Loan Association, and the first woman to serve on the Board of Trustees of Spring Hill College.
Doris Bender's competence, integrity, and wisdom, along with the manifold accomplishments that marked her career, serve as an example for all.