Alabama Women's Hall of Fame
Anne Mathilde Bilbro (1870-1958)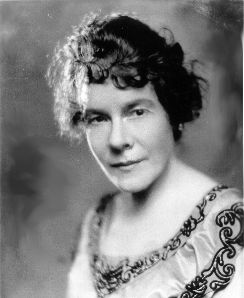 Anne Mathilde Bilbro held an enviable place among American composers for half a century and justly occupies her place in the ETUDE's Historical Musical Series of the World's Best Known Musicians. The most prolific of Alabama composers, her published works include sheet form piano pieces, pianologues, song stories, piano duets and trios, and complete books of piano music collections.
Known primarily as the children's musician, her unique methods are said to have revolutionized the teaching of children's piano literature. Dr. John Thompson, writing in ETUDE magazine (December 1938), stated, "The very name of Bilbro always amounts to the stamp of approval on a piano piece. Miss Bilbro has contributed countless fine things to the piano educational literature, and her grateful admirers among piano teachers are legion. Not only has she a real gift for writing but one can always be sure that she is in sympathy with the piano teacher and this is reflected in her writing."
Miss Bilbro originated and published over 600 works primarily in the field of music education. She was noted in the 1936 edition of MUSICAL ALABAMA as Alabama's most prolific composer. This is a feat believed to be unequaled by any other Alabama woman. This astounding volume of work was made available through over thirty publishing houses.
In 1926, the ETUDE magazine issued a special sesquicentennial edition celebrating "150 years of American music." Featured were such composers as Irving Berlin, then at the peak of his fame; Carrie Jacob Bond, who had endeared herself to a wide audience with "End of a Perfect Day"; Stephen Foster; John Phillip Sousa; and Alabama's own Anne Mathilde Bilbro.
Sometime between 1890 and 1900, Miss Bilbro opened her studio in Gadsden. There, the people of Gadsden for years had access to her exceptional methods of teaching piano and the ensuing recitals. She also conducted master classes in New York, Colorado, Missouri, Arizona, and throughout the South.
Her talents were not limited to composing and teaching music. She wrote short stories, a novel, articles for ETUDE magazine, and the "Legend of Noccalula" which is still available to tourists at Noccalula Falls in Alabama. Toward the end of her life, Miss Bilbro, like Beethoven, was loosing her hearing. She would stand quietly at the curve of a grand piano with her hands pressing against it - using the last of her abilities to enjoy the music to which she had devoted her life.
Bibliography
Bilbro, Mathilde. Happy Half Hours in Melody Land: Elementary Lessons for the Pianoforte…. Cincinnati: The Willis Music Company, 1921.
Bilbro, Mathilde. Military Parade. Cincinnati: The Willis Music Company, 1917.

Other Inductees


Alabama Women's Hall of Fame

2005 Alabama Women's Hall of Fame