Alabama Women's Hall of Fame
Louise H. Branscomb (1901-1999)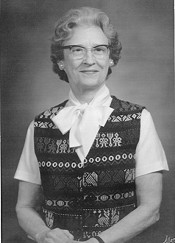 Louise H. Branscomb, M.D. of Birmingham, devoted her long life to bringing better health to individuals and to society. From 1931 to 1975, she attended to the needs of her patients and their families through her practice of obstetrics and gynecology. A graduate of Womans College of Alabama (now Huntingdon College) and the Johns Hopkins University School of Medicine, she became a well respected physician at a time when few women entered the profession of medicine. Especially notable was her practice of surgery, a rare speciality for female physicians of her time. During the 1930's she was among the first doctors to work in family planning clinics in Birmingham.
In 1944-45, she temporarily suspended her practice to volunteer her services to the war effort. As a major in the United States Public Health Service, she served with the United Nations Relief and Rehabilitation Agency in war-torn North Africa, Italy and Greece. She was one of about one hundred twenty women physicians who served in the United States military forces during World War II.
Returning to Birmingham in 1945, she rebuilt her medical practice and embarked on a parallel, second vocation as a Methodist church and civic leader, passionately seeking to make a sick society well. Working primarily, but never exclusively, through what is now the United Methodist Church, she advocated tirelessly for racial, gender, and economic justice and for peace. Her work with the Methodist Board of Missions, which she served with distinction from 1964 to 1972, and with the United Methodist Commission on the Status and Role of Women from 1973 to 1982, made her an influential and internationally known activist. In 1986, the national mission organization of United Methodist Women named her among one hundred outstanding Methodist women in Christian mission. In 1989, the United Methodist Women of the North Alabama Conference established the annual "Louise Branscomb Barrier Breaker of the Year" Award, "Honoring a Methodist willing to take risks...And to stand up for the rights of women and ethnic minority persons."
Aware of the responsibility to share her experiences with future generations, she deposited her diaries and other papers in the Louise Branscomb Collection at the Duke University Library, a major center for research on women, Christianity, and medicine. At her death in June of 1999, at the age of ninety eight, she left almost her entire estate of more than six million dollars to Birmingham Southern College, Greater Birmingham Ministries, and First United Methodist Church of Birmingham.

Other Inductees


Alabama Women's Hall of Fame

2005 Alabama Women's Hall of Fame