Alabama Women's Hall of Fame
Idella Jones Childs (1903 - 1998)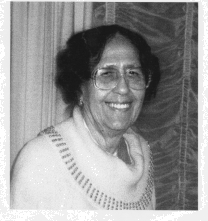 Idella Jones Childs was a remarkable woman. Born in Perry County, where she lived all of her life, Idella Childs was a strong proponent of equality and dignity for all people. She was a mother, teacher, advocate, and model of integrity and concern for the people of Perry County and Alabama.
For thirty-five years, Ms. Childs taught in the segregated schools of Perry County using the meager resources at her disposal. She taught biology, algebra, history and social studies. Because of her deep concern for the welfare of children, in 1979 President Jimmy Carter named Idella Childs an honorary member of the National Commission on the International Year of the Child. In 1982, Ms. Childs founded and was first chairperson of the Perry County Arts and Humanities Council, providing children of this rural county with unusual cultural experiences.
As a member of the Alabama Historical Commission and founding member of the Black Heritage Council, Idella Childs was instrumental in gaining recognition for the First Congregational Church Building in Marion in the National Register of Historic Places. In 1990, because of her efforts, the Mary Elizabeth Phillips Thompson Auditorium of the old Lincoln School was added to the National Register of Historic Places.
In 1985, at the age of seventy-nine, Ms. Childs became the first black woman to serve on the Marion City Council, being appointed to fill an unexpired term. She was elected to her seat in the next city election.
Born in 1903, Idella Jones Childs lived through the century of social and political change that brought about the end of official racial discrimination in Alabama. She was a diligent worker for equal treatment under the law. In 1993 at the age of 90, Idella Childs received the Unsung Heroes Award from NASA during the agency's commemoration of the thirtieth anniversary of the passage of the Civil Rights Act of 1964.
Mrs. Childs, who died in 1998, was a woman among women: genial in companionship, honest in her transactions, and diligent in her work for the improvement of the lot of her people. Idella Jones Childs and her husband, Norman Childs left a legacy of civic service in their five children: William, Norma, Norman, Jr., Cora, and Jean. Her death quieted a strong voice for the dignity of all human life.

Other Inductees


Alabama Women's Hall of Fame

2005 Alabama Women's Hall of Fame