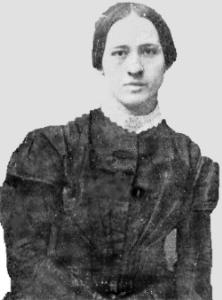 A descendent of a Revolutionary War veteran, Martha Elizabeth Foster was born to John Lovelace Savidge Foster and Susanna Hollifield Foster, in 1830, in Georgia. Her parents moved to the new family compound of Foster's Settlement, Alabama when she was three years old.
She attended primary school in Foster's Settlement and high school at Lucian La Taste's Institute in LaFayette until 1845 when her father's economic circumstances forced her to cease her formal education. Martha could not attend the University of Alabama with her brothers and male cousins. She taught school in Foster's Settlement and saved her money to send herself to the Mesopotamia Academy in Greene County, where she was graduated at the age of nineteen.
Martha's interests included women's physical, mental, and spiritual welfare. Many of the women had already suffered from anemia because of nutritional deficiencies, frequent illnesses, and the South's subtropical climate.
On November 14, 1849, Martha had a near-death experience resulting possibly from typhoid fever. She felt a spiritual calling to be a missionary teacher abroad. She learned, in 1850, that the five-year-old Southern Baptist Foreign Mission Board probably would not appoint her as a single missionary. Following a three-week acquaintance, she was married to missionary evangelist, Tarleton Perry Crawford, of Kentucky. The Board had arranged their match and they both believed their marriage was providential. They spent their honeymoon at the annual meeting of the Southern Baptist Convention, in 1851, where Martha addressed the assembly. The Alabama delegation considered this woman of vision to be their first foreign missionary and wanted to encourage her.
Full of faith and good works, her long life has made a deep impression on the church in China. She is renowned for her mentoring of younger missionaries, both male and female, including Lottie Moon. One of her protégés wrote, "When the spirit of Mrs. Martha Foster Crawford took its flight from earth to heaven. . .there passed away one of the most remarkable characters of modern missions. . .She was. . .in the eightieth year of her life and in the fifty-eighth year of missionary service. . .Insofar as I can recall, I know of no other person, man or woman, in all the history of modern missions, who has given so many years of unbroken service."