Blanche Evans Dean made a significant and lasting impression on the State of Alabama through the book she published, her life as a master teacher, and her work with state and national organizations.
Mrs. Dean, a native of Clay County, earned degrees from Valparaiso University in Indiana and the University of Alabama. For almost thirty years, she taught biology in Alabama's public schools; most of that time was spent at Woodlawn High School in Birmingham. One of her former pupils described her class as "an exciting voyage of discovery, constantly primed for the next serendipitous miracle." Birds, bees, trees, flowers, and fern became old friends to her students, who learned with joy to became concerned about the natural treasures of Alabama.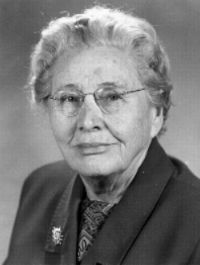 In order to share her love of nature and her teaching methods, Blanche Dean organized the Alabama State Nature Camp for the instruction of teachers and students in natural history and conservation. She directed this camp for thirteen years.
Numerous organizations were originated by or acquired strength through Mrs. Dean's leadership. She was a founder of the Alabama Ornithological Society, the Alabama Wildlife Society, and the Alabama Conservancy. She served the Birmingham Audubon Society as president and was active in the Alabama Academy of Science, The National Association of Biology Teachers, the American Fern Society, and Delta Kappa Gamma.
Mrs. Dean's professional and civic contributions brought her great honor. The Alabama Library Association awarded to her, posthumously, the annual author award in 1975. She earned the non-fiction award for her five books: Wildflowers of Alabama and Adjoining States (with Ann Mason and Joab L. Thomas), Ferns of Alabama, Trees and Shrubs in the Heart of Dixie, Happy Trails, and Let's Learn the Birds in Alabama (reprinted in a revised and expanded edition as Birds). She was also honored with a special citation from the National Audubon Society for distinguished service in the field of conservation education. The Alabama Wildflower Society further honored her by naming the Birmingham chapter for her and by creating the Blanche E. Dean Scholarship.
Blanche Evans Dean was a rare human being who loved nature and people and who saw God in both. She lived an unselfish, productive life and left a legacy of memories of her intense appreciation of the world around her.