Alabama Women's Hall of Fame
Hallie Farmer (1881-1960)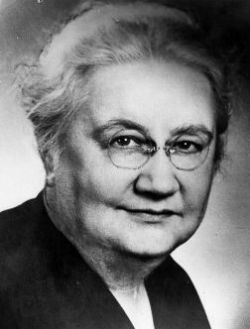 Dr. Hallie Farmer is remembered as an outstanding leader in the movement to bring women into full political participation in governmental affairs, an effective foe of voting discrimination and prison abuse, an educator of note, and a progressive reformer.
Described in the Birmingham News as the "undisputed champion of Alabama's politically-minded women, this head of the department of political science and history at Alabama College [now the University of Montevallo] gave leadership to women's organizations in the state for more than thirty years, being especially active in the Business and Professional Women's Clubs and the American Association of University Women."
Dr. Farmer was a firm believer in citizen participation in government. When public affairs were not pleasing to her, she wrote letters to her representatives at all levels of government and advised women's organizations to do likewise. She is particularly remembered for her service on the legislature-appointed committee to investigate the prison system, her drive for penal reforms, and her leadership of the crusade among women to abolish the poll tax. For several years she was on the Bureau of Public Administration at the University of Alabama and was one of the founders of a cooperative program at the Universities of Alabama, Kentucky, and Tennessee for training young men and women for governmental positions. Dr. Farmer served two four-year terms on the Montevallo Town Council.
An extensive write on legislative and historical subjects, her Legislative Process in Alabama is considered a classic in its field. The scholarly Dictionary of American Biography, published in the 1930's includes some fifty biographical sketches that she contributed, and she regularly published articles in leading professional magazines.
This Indiana native who came to Montevallo in 1927 with A.M. and Ph.D. degrees was awarded an honorary degree in 1956 upon her retirement. In 1954, the State Business and Professional Women's Clubs gave her their first "Woman of Achievement" award. She was among the first group of women elected to the Alabama Women's Hall of Fame.
Bibliography
Farmer, Hallie. The Economic Background of Frontier Populism. Cedar Rapids, Iowa: 1924.
----. "The Economic Background of Southern Populism." South Atlantic Quarterly (29 January 1930): 77-91.
----. The Legislative Process in Alabama. University, Alabama: University of Alabama Press, 1949.
Griffith, Lucille. Alabama College, 1896-1969. Montevallo: University of Montevallo, 1969.
Sammon, Patricia. Hallie Farmer: Teacher and Leader. Huntsville: Writers Consortium Books, 1989.
Who's Who of American Women, 1st ed. Chicago: Marquis—Who's Who 1950, 401.

Other Inductees


Alabama Women's Hall of Fame

2005 Alabama Women's Hall of Fame