Alabama Women's Hall of Fame
Sara Crews Finley (1930 – 2013)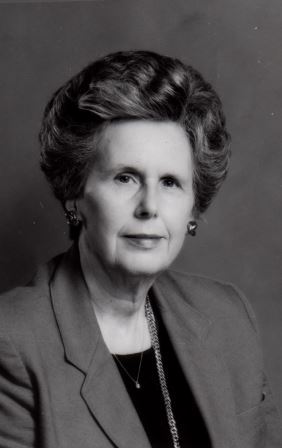 Sara Crews was born and raised in Lineville, Alabama. She graduated from Lineville High School, obtained the B.S. degree from the University of Alabama and the M.D. degree from the University of Alabama School of Medicine.
She trained at the Institute for Medical Genetics at the University of Uppsala, Sweden. She was on the faculty of the U. of A. School of Medicine from 1960 to 1996. She was Co-director of the Laboratory of Medical Genetics.
Finley and her husband, Wayne H. Finley, Ph.D., M.D., founded the medical genetics program in 1962 in Birmingham. It was the first medical genetics program in the southeastern United States.
She served authored or co-authored more than 150 papers, abstracts and book chapters in major professional publications. She was a member of numerous professional organizations, including the American Society of Human Genetics, American College of Medical Genetics (Founding Fellow), American Medical Association, and the Medical Association of the State of Alabama.
Sara received many awards and honors, which included among many others: UAB Distinguished Faculty Lecturer; XXXI's 31 Most Outstanding University of Alabama Alumnae Award; the Distinguished Alumna Award of the University of Alabama National Alumni Association; Martha Myers Role Model Award from the University of Alabama Medical Alumni Association; Samuel Buford Word Award of the Medical Association of Alabama; Gardner Award of the Alabama Academy of Science; American Medical Women's Association/National Library of Medicine Legends Award; Alabama Healthcare Hall of Fame; Phi Beta Kappa; National Outstanding Alumna Award of Zeta Tau Alpha women's fraternity; Birmingham Business Journal Lifetime Achievement Award; 1989 Top 10 Women in Birmingham; Brother Bryan Humanitarian Award of the Women's Committee of 100 for Birmingham; Will Gaines Holmes Award from the Children's Aid Society; and the Southern Women's Committee of 50.
She was the first woman member of The Rotary Club of Birmingham and a member of its Board of Directors. She served on the Birmingham Board of Directors of Compass Bank, and her community work included service on the Boards of Directors of the United Way of Central Alabama and Girl's Inc. She was a longtime member of Dawson Memorial Baptist Church, where she taught Sunday School for more than 30 years.
Described as a "Pioneering UAB Geneticist," she died at age 82 in 2013.

Other Inductees


Alabama Women's Hall of Fame

2005 Alabama Women's Hall of Fame