Alabama Women's Hall of Fame
Dixie Bibb Graves (1883-1965)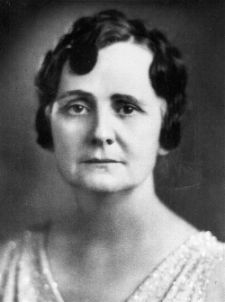 Dixie Bibb Graves was Alabama's first female Senator. In 1937 she was appointed to serve the unexpired term of Hugo Black in the United States Senate and delivered the first speech there by a woman Senator.
The wife of a twice-elected governor of Alabama, Mrs. Graves was active in the suffrage movement and was president of the Alabama league of Women Voters. She was also a moving force in the Christian Women's Temperance Union. Long an advocate of the child labor amendment, she worked for years in behalf of human welfare agencies.
A small woman with a gentle manner and endearing charm and graciousness, she was described by the Montgomery Advertiser as having "a keen intelligence and amazing grasp of national problems, shown in the service she has rendered."
Mrs. Graves knew the power of women, and was one of the leaders among women's organizations in Alabama. She was a member or officer in the Alabama Historical Society, Daughters of the American Revolution, No-Name Literary Club of Montgomery, Women's Missionary Union of First Christian Church (Montgomery), Young Women's Christian Association, League of Women Voters, Women's Christian Temperance Union, Alabama Federation of Women's Clubs, and United Daughters of the Confederacy. She also was active as a member of boards and national organizations; Alabama Illiteracy Commission, Board of Trustees of Boys Industrial School, American Red Cross, American Legion Auxiliary, National Foundation for Infantile Paralysis, Board of Directors of Bob Jones College, and others.
She received honorary degrees from Bob Jones College, 1935, and from the Alabama College of Montevallo (University of Montevallo), 1936.
Bibliography
"Alabama's New Senator." Brewton Standard, 2 April 1935.
Caldwell, Lily May. "Wholesouled Backer of New Deal Sees Program in Practical Idealism." Birmingham News, n.d. 1937.
"Chairman of Applied Education, Alabama Federation of Women's Clubs." Alabama Federation Magazine (March 1930), cover.
Crist, Sara E. "New First Lady Will Devote Herself to Keeping House for Governor." Montgomery Advertiser, January 1935.
"Dixie Bibb Graves." Montgomery Advertiser, 3 February 1965.
"Dixie Bibb Graves: Former Senator Speaks." Alabama Magazine (July-December, 1938): 11.
Goodrich, Gillian. "Romance and Reality; the Birmingham Suffragists, 1892-1920." The Journal of the Birmingham Historical Society 5 (January 1978):18-19.
Hurst, Ralph. "Move Begun to Get Mrs. Graves back Home." Birmingham News, 23 November 1937.
"Miss Dixie." Alabama Magazine (November 1986): 9.
"Mrs. Bibb Graves Appointed Head of Literary Body." Birmingham News, 26 October 1930.
"Mrs. Bibb Graves Dies." Birmingham News, 22 January 1965.
"Mrs. Graves Bags First Deer." Birmingham News, 1 January 1937.
"Mrs. Graves Fills Date for Governor in Troy." Montgomery Advertiser, 14 August 1929.
"Mrs. Graves Flies to Don Senate Robe." Montgomery Advertiser, 19 August 1937.
"Mrs. Graves Gets Honorary Law Degree." Montgomery Advertiser, 30 May 1935.
"Mrs. Graves Given Montevallo Degree." Montgomery Advertiser, 6 May 1936.
"Mrs. Graves Talked to Succeed Husband." Birmingham News, 7 November 1934.
"Mrs. Graves Traces Revolt of Youth to Prohibition." Montgomery Advertiser, 12 April 1930.
"Mrs. Graves Will Be Honor Guest at Bama Meeting." Birmingham News, 5 October 1936.
Mullin, Atticus. "Mrs. Bibb Graves Put Forward for Vacancy in Senate." Montgomery Advertiser, 15 August 1937.
"Senator Dixie Graves has a Definite Aim in Position." Times-Picayune, 7 September 1937.
Swenson, Mary E. "To Uplift a state and Nation: The Formative Years of the Alabama League of Women Voters, 1920-21." Alabama Historical Quarterly 37 (Summer 1975): 115-135.

Other Inductees


Alabama Women's Hall of Fame

2005 Alabama Women's Hall of Fame