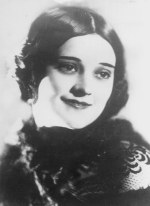 Lottice Howell was born in Bowling Green, Kentucky, the daughter of Mr. and Mrs. Eli Howell. The family moved to Moundville, Alabama when she was five years old. She graduated from Moundville Normal High School before the age of sixteen and afterward studied music at Huntingdon College. After graduating from Huntingdon, she taught there until she moved to New York to further pursue musical studies. When money ran out, she returned to the South and taught in a Georgia school for girls until she could once more pursue her stage career in New York.
Miss Howell's musical career, which spanned a period from the late 1920's to the early 1940's, began with appearances in opera. However, it was her ability to sing semi-classical and popular music which brought success to her musical career. She was referred to as "a glamorous lyric-coloratura soprano of exquisite color and wide range."
She had leading roles in the musicals, Deep River and My Maryland. In 1930, she starred in Metro-Goldwyn-Mayer's movies In Gay Madrid, co-starring Ramon Navarro and Tyrone Power, and Free and Easy, with Buster Keaton. One of the highlights of her career was her performance at the London Palladium in the early 1930's. Miss Howell also had her own national radio show which was aired by NBC. She was acclaimed as one of the brightest stars of the 1920's by such authorities as Irving Berlin, Arturo Toscanini, and Louis B. Mayer. During the War years, she toured the South bringing good music. She donated one half of the ticket sales to the American Red Cross.
In 1942, Miss Howell was needed to operate the family farm since her father had died and her mother was alone. She returned to Hale County and became an efficient cattlewoman. She continued to share her musical and artistic talents with others and was a positive influence on many young people.
It was said of Miss Howell, "Simply put, she possessed a talent; she developed this talent; she shared this talent. Such is life's fulfillment."