Alabama Women's Hall of Fame
Pattie Ruffner Jacobs (1875-1935)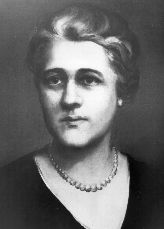 Pattie Ruffner Jacobs was born into the South at a time when the role of the Southern lady was limited to "queen of the household." She was a crusader for justice. She proved to be the family's most original thinker, as well as its most talented and versatile member. She developed a lovely singing voice and later in life, was much in demand for operettas and choirs.
Although Pattie was possessed with all the attributes of a Southern Belle, as far as manners, looks, and charm, she sought a wider role. From a family heritage of acting on principal, an inquiring mind, and a love of life and learning, Pattie Jacobs' fight for individuality and justice were the consuming passions of her life.
Mrs. Jacobs became involved in and made a significant contribution to the political process in the state. She became the first Alabama woman to become a political model for women. She was the founder of the Birmingham Equal Suffrage Association in 1910, and the Alabama Equal Suffrage Association a year later. She became an officer in the National Equal Suffrage Association and worked tirelessly from 1910 to 1920 for the vote for women in Alabama. After the amendment was passed at the national level (Alabama did not ratify until 1954), Mrs. Jacobs helped turn the Alabama Suffrage Association into the League of Women Voters. Soon after the organization was formed, she became an officer of the National League of Women Voters. In 1920, she became the national secretary.
In the twenties, Mrs. Jacobs led the local league into a campaign to pass a bill creating the eight hour day. This did not pass.
In the early thirties, she was appointed the first National Democratic Committeewoman from Alabama and sat on the national Democratic Committee. She served in this capacity from 1933 until her death. She was appointed to several commissions by Presidents Hoover and Roosevelt, including the first woman appointee to aid in the sale of Liberty Bonds during the first World War. President Roosevelt appointed her to two positions with his administration before she died suddenly at the age of sixty-four. These positions were; Head of the Woman's Division of the Consumer Advisory Board of NRA and Publicity Speaker for the TVA position.
Pattie Jacobs' effort to gain the vote for women was for a purpose other than personal satisfaction. She saw major evils in society, such as child labor, convict lease, and long uncontrolled hours for working people. When she was able to vote, she set about correcting these.
Pattie was married to Solon Jacobs, who supported her endeavors.
Bibliography
Birmingham, Alabama. Business and Professional Women's Club. Resolution. 22 December 1935.
Dalyrymple, Dolly. "Mrs. Solon Jacobs Will Represent Alabama at Suffrage Annual Anniversary." Birmingham News, 30 April 1930.
Flynt, Wayne. "A Brief Biographical Sketch of Pattie Ruffner (Mr. Solon H.)." n.d. (Typewritten.)
"Funeral Is Held for Mrs. Jacobs." Birmingham Post, 24 December 1935.
Goodrich, Gillian. "Romance and Reality: The Birmingham Suffragists 1892-1920." The Journal of Birmingham Historical Society 5 (January 1978): 4-21.
"Jacobs-Ruffner." Montgomery Advertiser, 10 February 1898.
Miles, Fay. "Beautiful Interiors in Birmingham Homes." Birmingham Age-Herald, 24 February 1902.
"Mrs. S. H. Jacobs, TVA Official, Is Taken By Death." Birmingham Age-Herald, 23 December 1935.
"Mrs. Solon Jacobs Is Appointed to the Highest Post in NRA Council." Birmingham News, 9 January 1934.
"One of the Few." Birmingham Post, 8 April 1938.
"Portrait Will Be Dedicated." Birmingham Post, 4 April 1930.
"Social" (Wedding Write-up). Birmingham News, 20 January 1898.

Other Inductees


Alabama Women's Hall of Fame

2005 Alabama Women's Hall of Fame