Alabama Women's Hall of Fame
Maud McLure Kelly (1887-1973)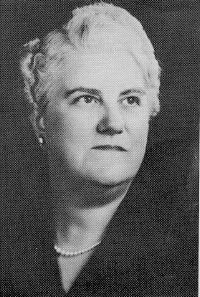 Having grown up in a loving family surrounded by servants, good books, and many luxuries of life, Maud McLure Kelly could easily have settled into the life of a typical society matron. Instead, her very devotion to her family guided her into a career in law. As she reached maturity, she saw her once wealthy family experiencing serious financial problems and facing bankruptcy. Determined to earn money, she changed from a society girl into a career woman.
Fascinated by her father's law practice, by the age of five, Maud Kelly had announced that she intended to be a lawyer. When Judge Richard Kelly moved his practice from Anniston to Birmingham shortly after her graduation from Noble Institute, Miss Kelly became his stenographer. She grew painfully aware of his need for her assistance with the business affairs related to his practice, and she also realized her own professional aptitude and her fascination with the field of law. She began to study law, and in 1907 her performance on the entrance exam at the University of Alabama Law Department merited her admission to the school as a senior - the second woman ever to have been admitted.
Maud Kelly graduated with highest honors in only one year, but she still had to overcome the Code of Alabama, which was worded in a way that excluded women. A friend of hers pushed through legislation to change the wording in the Code from "his diploma" to "his or her diploma," and she became the first woman to practice law in Alabama. She was said to have considered her acts of opening the door for women to the active, actual practice of law in Alabama as her most important contribution. As a woman practicing law in the South, she gained the distinction of being the first among her peers to plead a case before the United States Supreme Court.
Maud Kelly's successes in the world of law are well documented, but to genealogists and historians of Alabama, her name is synonymous with the terms "dedicated researcher" and "accurate information." Using her legal training and her keen mind, she took every opportunity while traveling in her law practice to visit courthouses to collect genealogical information. She later joined the staff of the Alabama Department of Archives and History. Then, working with Marie Bankhead Owen, she traveled to all areas of Alabama to acquire materials for the Department. She continued to add to her personal library, and in 1970, she donated to Samford University her extensive collection, including biographies of state officials and data of prominent families, census records, public land records, minutes of early governmental proceedings, tax lists, information on marriages, and rosters of Civil War soldiers. Her gift placed the Samford facility among the front ranks of Alabama libraries in holdings of manuscript material.
Kelly's work with reclaiming for posterity the long lost, decaying documents in the attics and basements of many courthouses in the state, her participation in clubs and patriotic societies, and her support for the rights of women must be added to her other outstanding contributions. While continuing to embody the traditional values of home, country, and morality, she made invaluable contributions to the betterment of life for women in Alabama, as well as to the preservation of the heritage of all Alabamians.
Bibliography
Turner, Freda Reid, ed. History of the Pace Family: from Manuscripts of Miss Annie
Jones, Barnabas Pace, and Maud McClure Kelly. Roswell, Ga.: Wolfe Publishing, 1995.

Other Inductees


Alabama Women's Hall of Fame

2005 Alabama Women's Hall of Fame