Alabama Women's Hall of Fame
Octavia Walton Le Vert (1811-1877)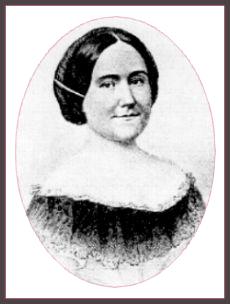 Although Octavia Walton Le Vert neither was born in nor died in Alabama, she was so closely associated with the state in the mid-nineteenth century that her fame as the "Pride of Mobile" gave new stature to the city as a site of learning and culture.
Born on August 11, 1811, near Augusta, Georgia, Octavia Celestia Valentine Walton was the granddaughter of George Walton, a member of the Second Continental Congress, one of the three Georgia signers of the Declaration of Independence, a former governor, and a prominent jurist. Her mother and her grandmother instilled in the young Octavia a pride of family and keen awareness of its place in the making of a nation.
After Octavia's father, George Walton, Jr., became secretary and, at one point acting governor of Territorial Florida, he moved his family there in 1821.
Her mother, her grandmother, and a Scottish tutor supervised her education, which included - in addition to learning as many as six languages - music, painting, traveling, and becoming acquainted with major figures of the day. In 1835, she moved with her family to Mobile, where she married French physician, Henry S. Le Vert. They had five children, three of whom died in childhood. From their elegant house on Government Street, she entertained internationally known persons, and she became one of the most widely known socialites of the 1850's, North and South. She was a friend of such notables as Edgar Allan Poe, Washington Irving. and Henry Clay and knew many other well-known Americans. During her extensive travels in Europe she was presented to the Pope, to Queen Victoria and Prince Albert, and to Napoleon and Eugenie.
Although Madame Le Vert is remembered primarily as a socialite, after the poverty and misery she saw in Europe distressed her, she had a role in painting a particularly bleak picture of the life of a working-class woman. She was concerned with the welfare of women in sweat shops, cotton fields, or theatre troupes, as well as that of those struggling for acceptance as they pioneered in new fields. She also worked tirelessly on behalf of the "Save Mount Vernon" movement, and she was a charter member of "Sorosis," a women's club said to be one of the first of its kind in America.
Her Souvenirs of Travel, which recorded her two trips to Europe in the 1850's, is the only book that madame Le Vert wrote; however, much has been written about her remarkable life.
Bibliography
Le Vert, Octavia. Souvenirs of Travel. Mobile, New York: S.H. Goetzel and Company, 1857.
Peacock, Virginia Tatnall. Famous American Belles of the Nineteenth Century. Freeport, N.Y.: Books for Libraries Press, 1970.

Other Inductees


Alabama Women's Hall of Fame

2005 Alabama Women's Hall of Fame