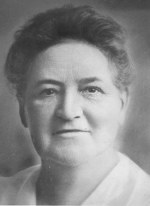 Ida Elizabeth Brandon, the daughter of Mary Baldwin Munn Brandon and Washington McClure Brandon and wife of Giles Huff Mathis, was born in Florence, Alabama in 1857.
Ida Brandon Mathis was called the "Economic Moses of the South" by Mittie McDavid in the May 12, 1918 issue of the Times Picayune. She was a farmer's daughter and a practical woman who not only was a successful farmer and financier, but also dedicated herself to the principle of an agriculturally sound state and nation. Mrs. Mathis, a strong proponent of crop rotation and crop diversification, preached her economic doctrine of "Safety in Food Crops" from New York to Louisiana and in states westward. She was appointed by Alabama Governors Henderson and Kilby to represent and assist with agricultural and developmental conferences. She spoke at the very first meeting of the Alabama Chamber of Commerce on October 26, 1916, and was the only woman on the committee of 100 that worked to secure a nitrate plant for Muscle Shoals. Merle Crowell, in the February 1917 issue of American Magazine declared the "Mrs. G. H. Mathis has been worth $20,000,000 to the state of Alabama."
In 1917, Ida Mathis was also the first woman in seventy-five years to deliver a the baccalaureate address at Alabama's Howard College (now Samford University). Receiving many invitations to speak outside of Alabama, she addressed the Banker's Farmer Conference in Chicago in July 1917. On October 7 and 8, 1915, she spoke at the Farm Mortgage Bankers Association of America (FMBA) in St. Louis. Her speech was so moving that a copy of her address was sent to President Wilson along with resolutions expressing the appreciation of the FMBA for the great service she was rendering to the cause of better social conditions in the South. In May of 1917, Secretary Treasurer McAdoo called her for a conference.
John Skelton Williams, Comptroller of the Currency, Washington, D.C. told her that with her credit system she had done more toward winning the War than any other person in the United States.
As a field agent of the Alabama Bankers Association, farmer, economist, teacher, lecturer, and reformer, Mrs. Mathis was a woman of foresight who sought to prepare her country for its responsibilities during restless times by sharing freely the successes of her own experiences with others.