Alabama Women's Hall of Fame
Fran McKee (1926-2002)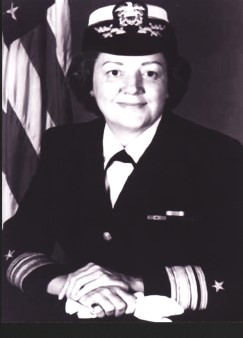 The United States Navy traces its origins to the Continental Navy that was established October 13, 1775. From revolutionary times, no woman, by law, regardless of her abilities, contributions, or accomplishments could be promoted to flag rank. The rules changed in 1967 and on June 1, 1976, 201 years after the founding of the Navy, Florence, Alabama native Fran McKee became the first woman unrestricted line officer, in history, to become a Rear Admiral in the United States Navy.
Fran was the oldest of three daughters born to Thomas Walker and Geneva Lumpkins McKee. During her formative years, her father was a special investigator for the Southern Railroad Company, and because of his work responsibilities, the family moved often and lived in a number of locations in Alabama, Georgia, North Carolina, South Carolina, and Tennessee.
Rear Admiral McKee was a gifted student and graduated from Phillips High School in Birmingham at the age of 15. In 1950, she earned a Bachelor of Science degree in Chemistry from the University of Alabama, and was commissioned an Ensign in the Navy. Later, she earned a Master of Science degree in International Affairs from George Washington University, was awarded the doctorate in Public Administration (honoris causa) from the Massachusetts Maritime Academy/University, and was one of the first two women to graduate from the Naval War College.
A person of character, charm, and personal warmth, as well as being a highly respected naval officer and a natural leader, Rear Admiral McKee was promoted quickly and excelled in every command. Throughout her career, she assumed increased levels of responsibility, and was the first woman to serve in many of these assigned areas.
State-side leadership positions held by Rear Admiral McKee included being the senior female Navy officer on the Committee to study Equal Rights for Women which resulted in wide-sweeping changes and opportunities for women in the Navy; the first woman to head a Naval Security Group Command; the Assistant Chief of Naval Education and Training and Director of Naval Education; plus serving as the Navy-wide Director of the Human Resources Management Division.
Tours-of-duty abroad included Morocco, North Africa and Rota, Spain. Additionally, Rear Admiral McKee was a frequent advisor to both the executive and legislative branches of the federal government on military matters, especially on the issues of women in the military services.
Rear Admiral McKee was a highly decorated officer and her military awards included the Legion of Merit with Gold Star, Meritorious Service Medal, and the National Defense Service Medal with Bronze Star. Some of her community honors included the Daughters of the American Revolution Medal of Honor, induction into the Alabama Academy of Honor, and having a bridge, on United States Highway 43 in Maury County, named in her memory by the Governor and General Assembly of the State of Tennessee.
A person of great personal integrity, Rear Admiral McKee had a great zest for life and lived it to the fullest. She died on March 3, 2002, and was buried at Arlington National Cemetery with full military honors. The life of Fran McKee is a testimony to the positive and enduring differences that one woman can make. Her example and actions changed the roles and opportunities afforded women in the United States military forever.

Other Inductees


Alabama Women's Hall of Fame

2005 Alabama Women's Hall of Fame