Alabama Women's Hall of Fame
Geneva Mercer (1889-1984)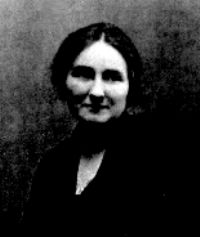 Geneva Mercer was one of Alabama's most notable artists, and she is one of the few to achieve national and international acclaim. She is also the first Alabama artist to have all of her works documented by the Smithsonian Institution.
Mercer, who was born in Jefferson, Alabama, showed talent as a sculptor at a very early age. Although she took art lessons as a child, it was not until she enrolled at the State Normal School (formerly Livingston University, now the University of West Alabama) in Livingston, Alabama. There, she received the encouragement and guidance that led her to study art professionally. The school's president, Julia Tutwiler, recognized the young girl's talent and arranged an apprenticeship for her with Giuseppe Moretti. Moretti was the famed sculptor whom the Tutwiler family had commissioned to cast a bust of Henry Tutwiler for the University of Virginia. The famed Moretti had supervised the casting of Vulcan, the iron sculpture that towers over Birmingham and serves as the city's mascot.
When Mercer completed her apprenticeship with Moretti, she remained with him as his assistant until his death in the late 1930's. Since much of Mercer's work during her years with Moretti was done under his name, separating the achievements of Moretti from those of Mercer is difficult. She was so much a part of the Moretti studio that she continued to operate it until after the death of Mrs. Moretti.
Although Mercer worked many years outside Alabama, public buildings in the state house contain many of her works. In the early 1930's, the State of Alabama commissioned her to cast the Julia Tutwiler Memorial tablet for the Department of Archives and History. She also sculpted Tutwiler memorials for several universities and colleges in Alabama, including the University of Alabama and the University of Montevallo. The Montgomery Museum of Art displays her Flimp Foundation. Outside the state, Mercer, individually and in cooperation with Moretti, executed works for some of the most prominent and influential families, organizations, corporations, and agencies in America.
In her later years, Mercer returned to Alabama, where she painted and wrote verse. Sculpture, however, was always her main vocation, and it is in that art that she made her greatest and most lasting contribution.
Mercer was more than a great artist; she was a Renaissance woman who had the grace, dignity, self-assurance, and poise that reflect integrity and accomplishment.

Other Inductees


Alabama Women's Hall of Fame

2005 Alabama Women's Hall of Fame