Alabama Women's Hall of Fame
Edwina Donnelly Mitchell (1894-1968)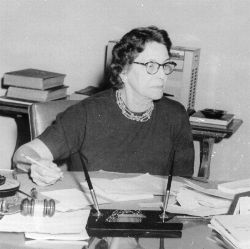 Edwina Donnelly Mitchell served the State of Alabama as assistant attorney general and as a member of the Pardon and Parole Board (for which she wrote the enacting legislation) before becoming superintendent of Julia Tutwiler prison in 1951.
Realistic about women entrusted to her charge and recognizing them as criminals, she was also an idealist, believing that every person has a "divine spark that must be given a chance to glow."
Mrs. Mitchell earned the respect of prisoners, her staff, and the public by her unswerving sense of justice and infinite patience. She was especially interested in preparing women to return to society better able to live normal lives. As one young woman said, she did much to "revive the human spirit" and "give dignity to those who lacked dignity."
Often in demand for public duties, it was said at death she had served on more boards and commissions, state and national, than any other person of her time.
Bibliography
Barfield, Norah. "Behind the Wall at Julia Tutwiler." Typewritten. N.d.
Dalyrymple, Dolly. "Edwina Mitchell—Alabama's Great Humanitarian." Birmingham News, 9 November 1941.
"Drinkard Goes to Parole Board." Birmingham News, 19 September 1949.
Harris, Kate. "Warden of Women's Prison Devoted to Helping Inmates." Alabama Journal, 2 December 1963.
McCullough, J.M. (Prison Director). "An Admirable Choice." Mobile Press, 21 June 1951.
"Mrs. Edwina Mitchell Will Head Wetumpka Prison." Birmingham News, 2 June 1951.
"Mrs. Mitchell Blasts Boswell in Prison Probe." Alabama Journal, 4 August 1949.
Nothern, Carolynne. "Love vs. the Lash." Birmingham News, 24 February 1963, 13 D.
Pierce, Sarah Cabot. "A Report on Julia Tutwiler Prison and Warden Mitchell." Montgomery Advertiser, 26 July 1951.
"Services Are Held for ex-Warden." Birmingham News, 5 February 1968.
"Tutwiler Warden to Retire." Birmingham Post-Herald, 16 July 1966.
Vickery, Katherine. "A Tribute to Edwina Mitchell." Paper presented on the occasion of her installation into the AWHOF. 3 October 1973.
"Warden of Women's Prison Expected to Retire Soon." Montgomery Advertiser, 2 January 1965.

Other Inductees


Alabama Women's Hall of Fame

2005 Alabama Women's Hall of Fame