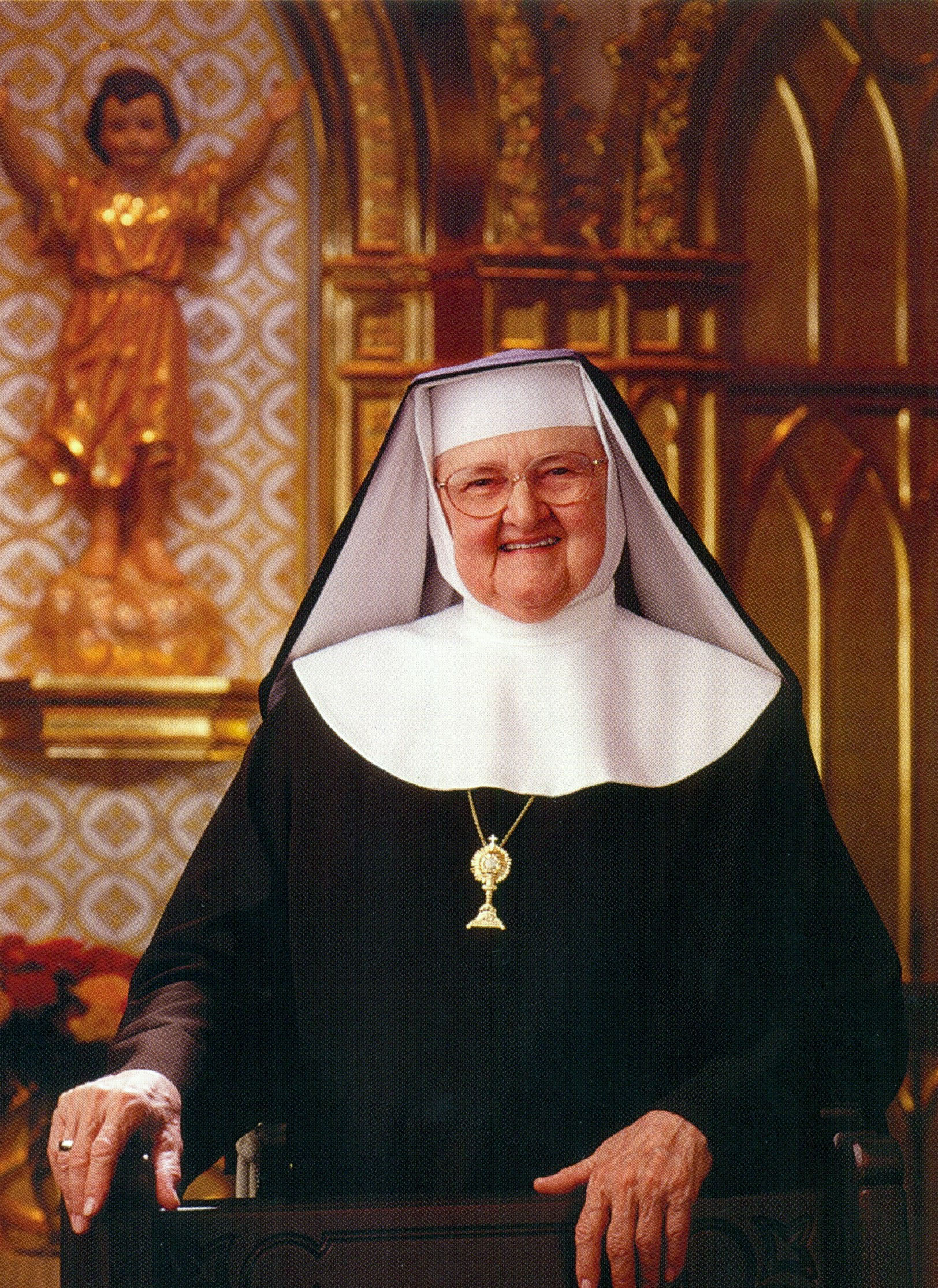 In 1923, the woman who would become Mother Mary Angelica was born as Rita Rizzo in Canton, Ohio. Through the challenges of poverty, an unstable home, and ill health, Rita grew a faith in God that led her to become a nun whose humble service to her Savior would make significant contributions not only to the Catholic Church but to the world. She joined the Poor Clares of Perpetual Adoration in Canton, Ohio, in 1953, taking the name Sister Mary Angelica. She dreamed of opening a monastery in the Deep South, so she turned her efforts to fundraising. A creative and entrepreneurial spirit surfaced in her as she led the sisters to establish St. Peter's Fishing Lures, a fly fishing lure company that, due to the Sisters' creative skill and Sister (later, Mother) Angelica's marketing and business acumen, garnered national attention. Mother Angelica and the Sisters raised enough money for a move South, and she and several other Sisters established Our Lady of the Angels Monastery on 15 acres of land in Irondale, Alabama, in 1962.
Mother Angelica made a scale model of the monastery for the architect to go by. She proved a very capable contractor, foreman, and business woman. To raise funds to build and support the monastery, Mother Angelica again used her charisma, entrepreneurship, and gift for teaching. She and the Sisters began the "Lil' Ole Peanut Company" to roast, package, and sell peanuts, and, within a year, they had paid all of the monastery's debts. Mother Angelica began giving talks locally and writing "Mini-Books" on religious life and social issues, and the Sisters began printing and packaging the books for a growing following. She began recording her talks for a television audience with the CBS affiliate network in Birmingham in the mid-1970s. In 1981, she launched the world's first Catholic cable channel, the Eternal Word Television Network (EWTN), in the garage of Our Lady of the Angels Monastery, with only $200 in seed money. In addition to Mother Angelica's official title as the network's first Chair and CEO, she hosted the popular and still running show "Mother Angelica Live." EWTN Global Catholic Network is now the largest religious media network in the world, offering 24-hour programming in multiple languages to over 310 million households in more than 145 countries and territories.
In 1995, Mother Angelica's story was featured in TIME magazine, which named her "the most influential Roman Catholic woman in America." That year, during a trip to Colombia, South America, in support of EWTN's Spanish offerings, Mother Angelica felt a calling from God to build a temple shrine and monastery that could serve as a place of pilgrimage and worship in Alabama. After three-and-a-half years of planning and building, the Shrine of the Most Blessed Sacrament in Hanceville, Alabama, was completed.
In 2009, Mother Angelica received the papal medal Pro Ecclesia et Pontifice(for the Church and the Pontiff) from Pope Benedict XVI, for distinguished service to the Catholic Church. She passed away in March 2016 and was buried in a crypt at the Shrine of the Most Blessed Sacrament.