Alabama Women's Hall of Fame
Sister Chrysostom Moynahan (1863-1941)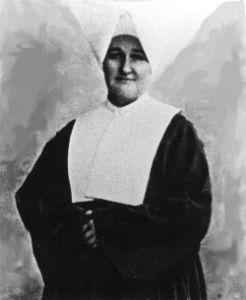 Sister Chrysostom Moynahan was a pioneer in bringing health care services to Birmingham and to Alabama. She served as administrator of Birmingham's early hospital, St. Vincent's, from 1900-1918. In that capacity, she supervised nursing care; organized the medical staff and its residency program; managed finances; recruited personnel; raised funds; handled the hospital's relations with government, business, and the religious groups in the city; and developed programs to provide the hospital's services to those who could not pay.
She was the first registered nurse licensed in the State of Alabama, receiving License #1 on March 10, 1916. Realizing the need for skilled personnel to assist the group of nursing Sisters, she founded St. Vincent's School of Nursing, the first nursing school in the State of Alabama, and she served as director of the school during her tenure in Birmingham.
She organized the Ladies of Charity in Birmingham to extend the ministry of the Daughters of Charity in providing aid and relief to the city's poor.
In 1918, she was called to lead a band of nursing Sisters and lay nurses to Italy to serve the U.S. war effort during the first World War. This group, the Loyola Unit, was the only group of its kind to serve abroad in the War, and Sister Chrysostom was decorated by both the Italian and United States governments for her bravery and service to the military.
She returned to the United States in 1919 and served as administrator of hospitals in St. Louis and St. Joe, Missouri. Her final assignment was to Mobile, Alabama, where she served as administrator of Providence Hospital through the financial woes of the Great Depression, but she maintained her commitment that the hospital treat anyone needing care, regardless of ability to pay.
Her life was dramatized for radio in a program about the Loyola Unit's service in World War I, and when her 50th year as a Daughter of Charity was celebrated, she received congratulations from the Pope, the President of the United States, and the Governor of Alabama, among others.
She was buried with military honors in a soldiers grave in Mobile's Catholic Cemetery.
Her spirit, her bravery, her dedication, and her accomplishments truly constitute a legendary personage in Alabama's state history.
Bibliography
Garrison, Greg. "Daughters of Charity Proud of Christian Hospital." Birmingham News, 15 January 1988, 1H.
Libscomb, Oscar H. "Sister Chrysostom Moynahan." Typescript of words spoken by the Most Reverend Oscar H. Lipscomb at the induction of Sister Chrysostom into the AWHOF. October 29, 1982.
Stallworth, Clarke. "City Needed Hospital, Nuns Come to Aid." Birmingham News, 14 August 1983, 1B.
Traylor, Barbara. "Sister Chrysostom Moynahan—Health Care Pioneer, Patriot, Humanitarian." A paper presented in nomination of Sister Chrysostom to the AWHOF. January 1981.

Other Inductees


Alabama Women's Hall of Fame

2005 Alabama Women's Hall of Fame