Alabama Women's Hall of Fame
Marie Bankhead Owen (1869-1958)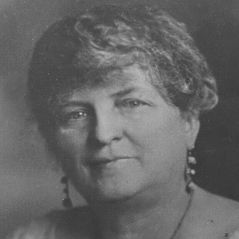 "Her fighting quality for things in which she believed was no more widely known than her keen wit, raucous humor, and original turn of phrase," was the way that Marie Bankhead Owen was described at the time of her death.
The Alabama Department of Archives and History was established in 1901, the first publicly funded state historical agency in the nation. Marie Bankhead Owen assisted her husband Thomas M. Owen, the first director of the department, in all of his endeavors. On Thomas' death in 1920, Marie became the first woman in Alabama to head a department of state government. Her son, Thomas M. Owen, Jr., was an original staff member of the National Archives.
Marie Bankhead Owen moved to provide assistance to school students learning about their state and its history. She wrote and edited texts on Alabama history and she directed the growth of the Department of Archives and History. Her experience as an editor for the Montgomery Advertiser, 1910-1917, was invaluable to her skill with the pen.
Daughter of U.S. Senator John Hollis Bankhead and sister to two U.S. Congressmen (Senator John H. Bankhead and Speaker of the House William B. Bankhead), Mrs. Owen was no stranger to the ways of bureaucracy. She was known at the capital as a woman who knew what she wanted, when she wanted it, and how she wanted it delivered.
At her 85th birthday celebration, "Miss Marie" was described as "an Alabama institution, as much a part of the state as the Alabama River, the blue skies, and the rugged mountains," and was presented with a plaque by the Board of Trustees of the Alabama Department of Archives and History.
Bibliography
Dobbins, Mary Graeme. "Marie Bankhead Owen, Retiring Archives Director Is Most Outstanding Member of a Fabulous Family." Montgomery Examiner, 3 March 1955, 16.
"Dr. Thomas M. Owen Expires." Montgomery Advertiser, 26 March 1920.
Goodrich, Gillian. "Romance and Reality: The BirminghamSuffragists 1892-1920." The Journal of the Birmingham Historical Society, 5 January 1978, 19.
Hoole, W. Stanley. "The Flag of the Republic of Alabama, an Odyssey." Alabama Historical Quarterly 40 (Fall and Winter 1978): 105-118.
"The Last of the Original Bankheads." Montgomery Advertiser, 4 March 1958.
"Marie Bankhead Owen Dies at 89." Montgomery Advertiser, 2 March 1958, 1A.
"Marie Bankhead Owen, Director, Alabama State Department of Archives and History,1920-1955." A tribute issued by Alabama State Department of Archives and History, 1958.
Owen, Marie Bankhead. "Dedication Hall of Flags, Alabama World War Memorial Building, 6-14-1940." Alabama Historical Quarterly 2 (Summer 1940): 108-123.
-----. Letters to John Hollis Bankhead. 18 June 1913, 1 August 1913, 3 August 1913, 2.
February 1914, 27 April 1914. Originals in Alabama Archives, John H. Bankhead Private Records.
-----. The Story of Alabama, a History of the State. New York: Lewis Historical Publishing Company, 1949.

Other Inductees


Alabama Women's Hall of Fame

2005 Alabama Women's Hall of Fame