Alabama Women's Hall of Fame
Sibyl Murphree Pool (1901-1973)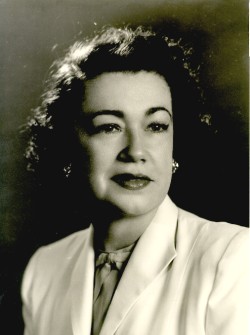 Sibyl Pool was born in 1901 to Benjamin Pool of Birmingham and Annie Mae Mills of York, Alabama. Reared in Linden, she attended and graduated from the Marengo County public school system. After graduating from Alabama College for women, now the University of Montevallo, she went on to attend the Livingston State Teacher's College. She returned from college to her hometown of Linden and taught violin for two years in the local high school.
Even though her parents mandated that all of their children play either the violin or the piano, Sibyl had other ambitions. Life in small town Alabama gave her more than a textbook knowledge of agriculture. As a young child Sibyl had received her first taste of politics when her father was appointed tax collector for Marengo County. Sibyl moved from the classroom to become the director of the Marengo County Farm Bureau and secretary of the Linden Chamber of Commerce. These positions became her launching pad into Alabama politics.
In 1936, while working with the Farm Bureau and the Chamber of Commerce, she was elected by the Marengo County Democratic Executive Committee to fill a two-year vacancy in the House of Representatives. She won re-election to full terms in 1938 and 1942. While in her second full term in the House, Governor Chauncey Sparks appointed Sibyl as Secretary of State. Two years later, in 1946, she became the first woman in Alabama history to be elected to a statewide office.
When elected to a full term as Secretary of State, she carried 63 of Alabama's 67 counties and four years later in her successful race for State Treasurer, she carried 65 counties. At that time she received the largest vote in state history of any candidate, man or woman. In 1954, she was elected to the first of four terms on the Public Service Commission, garnishing the largest percentage of the vote in all 67 counties.
Sibyl Pool was far ahead of her time. She opened the political door for women by becoming the first woman elected to a state wide office. She was the second woman elected to the Alabama legislature and served longer in political office than any other woman in the state's history. Her political career included eight years in the House of Representatives from Marengo County, six years as Secretary of State, four years as State Treasurer and sixteen years as an associate member of the Alabama Public Service Commission. She was often mentioned as a possible candidate for Governor. As her health declined, she retired to her cattle farm in Linden. She died of a stroke in 1973. Her passing was noted in the Congressional Record of the United States.

Other Inductees


Alabama Women's Hall of Fame

2005 Alabama Women's Hall of Fame