School teachers and owner/operators of Birmingham's Smith and Hardwick Bookstore, Anna Linton Praytor and her sister, Virginia Praytor, were dedicated to teaching and learning.
Both women were born in Birmingham and received undergraduate degrees from Birmingham-Southern College. Virginia taught Latin and English primarily at Phillips High School in Birmingham. Anna taught Latin and English at West End, Phillips, and Ramsay High Schools in Birmingham.
In the early 1950's, the two sisters bought Smith and Hardwick. Virginia served as president with Anna as secretary-treasurer. Eventually, the bookstore became synonymous with the Praytor sisters.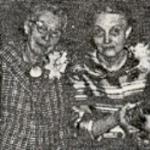 Friends said that Anna's life's work was to help get books to people. She traveled as far as London to purchase books for her store. She and her sister founded the Books and Authors Luncheon which took place during the Birmingham Festival of Arts for many years. In 1982, the Birmingham Altrusa Club named her "Altrusan of the Year" and established a vocational scholarship at Jefferson State Junior College to be awarded each year by the Altrusa Club. She died March 11, 1989.
While a graduate student at Vanderbilt University, where she earned a master's degree, Virginia Praytor received many honors in the fields of classical languages and mathematics. At Vanderbilt, she won acclaim for her translation from the original Latin of the Theodosian Code, Book Eleven, "A Study in Roman Taxation," which was published by Princeton University in 1952. According to Dr. James A. Pittman, Jr., Dean of the University School of Medicine at UAB, "Through the many groups of high school students (Ambassadors of Goodwill) whom she took to Washington, D.C., and introduced first hand to the operations of government and to New York to see the United Nations at work, her influence spread far beyond the local area where she taught and worked." She died July 24, 1974.