Alabama Women's Hall of Fame
Annie Lola Price (1903-1972)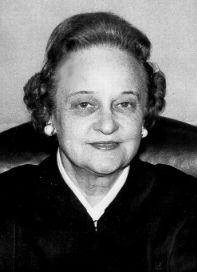 Annie Lola Price attended Athens College, then began her long career in the courts by working as a stenographer and studying law in the offices of Judge A. A. Griffith and Joel B. Brown in Cullman. She was admitted to the bar in 1928, and was in private practice until 1935, when she was appointed official court reporter by Judge Griffith.
In 1947 she went to Montgomery as assistant legal advisor to the governor, and in 1950 became legal advisor. In 1951 she was appointed Judge of the Court of Appeals, to fill a vacancy caused by the death of Judge Charles R. Bricken. She was the first woman to serve on a high court in Alabama and was re-elected for four successive terms. In 1969 she was sworn in as presiding judge of the newly created Court of Criminal Appeals, where she served until her death.
A Montgomery attorney and vice president of the Alabama Bar Association, M. Roland Nachman, Jr., has said: "Judge Price was more than simply a fine judge whose legal opinions have become judicial precedents. She was a great lady in the truest sense of the word. She was a quiet and unobtrusive pioneer, and exhibited the hardihood which must accompany those who lead, if they are to survive."
Judge Price came to high judicial office in Alabama 15 years before women could legally serve on an Alabama court of law; and only a few have served on any court anywhere in America. Public satisfaction with Judge Price's judicial performance was clear - she served for more than 20 years before her death, and rarely had opposition at election time. She brought understanding, warmth, and humanity to her judicial tasks, as indeed she did to all facets of her human relationships. "Judge Price contributed to the betterment of the women of Alabama in all walks of life, " her longtime friend Secretary of State Mabel Amos has said.
Judge Price served two terms as president of the Alabama Women Lawyers Association, and served with dignity and devotion with women in many professional, religious, and many civic organizations. Among these groups were the National Association of Women Lawyers, the League of Women Voters, the Association of Women Pilots, the Montgomery Business and Professional Women's Club, Altrusa, Zonta, and the First Baptist Church of Montgomery. Judge Price was vice chairman of the Governor's Commission on the Status of Women and also a member of the Governor's Ethics Commission.
Bibliography
"Alabama's Woman Jurist." Birmingham News, 5 June 1952.
Amos, Mabel. Typescript of remarks on the life of Judge Annie Lola Price. AWHOF Induction. 1 October 1976.
"Annie Lola Price." Alabama Journal, 20 June 1972.
Birt, Geoffrey. "Alabama's First Woman Superior Court Judge." Montgomery Advertiser, 10 June 1951.
Boswell, E.C. "Your Editorials Would Be Dangerous." Letter to the editor. Montgomery Advertiser. 16 January 1951.
"Colorful State Woman Jurist Dies in Capital." Birmingham News, 19 June 1972, 1.
Dobbins, Mary Graeme. "Judge Price Brilliant, Gracious." Montgomery Advertiser, 16 December 1954, 9.
Hill, Miriam Gann. "Woman Judge." Birmingham News, 8 February 1953, 1D.
"Judge Annie Lola Price." Birmingham News, 4 May 1952.
"Judge Price Named President of Alabama Women Lawyers." Montgomery Advertiser, 29 April 1951.
"Justice Annie Lola Price to Head Appellate Court." Alabama Journal(30 March 1962).
"Memorial Service for the Honorable Annie Lola Price." The Court of Criminal Appeals, 3 October 1972. (16 p. Printed Program)
"Miss Justice Anne Price." Montgomery Advertiser, 14 January 1951.
"Miss Price and Full Colonel." Montgomery Advertiser, 4 January 1951.
"Miss Price for the Court of Appeals." Montgomery Examiner, 29 May 1952.
"Price Renamed to Court Post." Alabama Journal (4 June 1952).
"Price Support (No Pun)." Montgomery Advertiser, 22 June 1951.
Rogers, Pat. "Lady Judge and Pilot, Too." Montgomery Examiner, 3 May 1951.
Sparrow, Hugh. Election News Notes. Birmingham News, 11 May 1952.
Thomas, Rex (AP Correspondent). "Judge Annie Lola Price Can Overrule a Jury." Birmingham News, 26 June 1952.
Thomas, Rex. "Women Plan to Fight to Serve on Court Juries: Election of Price to Post Spurs Arguments." Montgomery Advertiser, 29 June 1952, 1C.
Wasson, Don F. "State Jurists Pay Tribute to the Late Judge Price." Montgomery Advertiser, 4 October 1972.

Other Inductees


Alabama Women's Hall of Fame

2005 Alabama Women's Hall of Fame