Alabama Women's Hall of Fame
Marion Walker Spidle (1897-1983)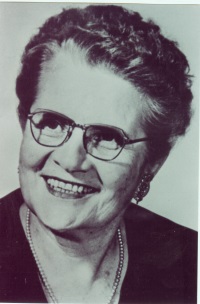 Educator, Churchwoman, Wife, University Administrator, and Community Leader, are synonymous with Marion Walker Spidle.
Born in Jersey City, New Jersey on July 18, 1897, Marion Walker Spidle was the daughter of Letford William Walker and Georgeina Young Walker. She attended schools in New Jersey and in Tennessee before moving to Alabama. She graduated from Alabama College, now the University of Montevallo, 1916. She completed an additional B.S. Degree and the M.A. Degree at Columbia University and did additional graduate study at Oregon State University. She was married to William Clarence Spidle. She and her husband were the parents of a daughter, Margaret Campbell Spidle.
Committed to her self-made goals, Marion Walker Spidle supported the work of researchers who desired to improve the lives of Alabama's farm families. Many improvements were made through her work in public education and through the Alabama Extension network.
She joined Alabama Polytechnic Institute, now Auburn University, as a Jefferson County Home Demonstration Agent in 1918 and, after having worked in other counties, became the Dean of Women and Head of the School of Home Economics at Auburn University in 1938. She worked diligently to gain state funding for suitable building facilities for the School of Economics at Auburn. She influenced hundreds of students at Auburn University to complete studies in home economics and in other fields of study as they prepared for their lives as homemakers and as career women. Her culinary arts and handiwork were known to three generations of Auburn women.
Among the numerous honors bestowed upon Marion Walker Spidle have been The Distinguished Woman of the Year, in 1960, by THE PROGRESSIVE FARMER; the Distinguished Alumna, 1963 by the University of Montevallo Alumnae Association; one of the first 100 Pioneers in Home Economics, in 1968 by the National Council of Administrators of Home Economics; the home economics building on the Auburn University campus named Marion Walker Spidle Hall, 1971; at the 1977 Annual Meeting of the Alabama Home Economics Association, she was saluted for 50 extraordinary years of membership and, in 1973, she was elected as a Ruling Elder in the Auburn Presbyterian Church.
A devotee to using her own education for the benefit of others, her legacy is "the indelible mark that she made on her profession, the State of Alabama, and all with whom she worked."

Other Inductees


Alabama Women's Hall of Fame

2005 Alabama Women's Hall of Fame