Mrs. Ruby Pickens Tartt was an internationally known folklorist and writer. She was best known for her work in discovering and collecting Negro folksongs, field calls, and other folklore.
Mrs. Tartt first gained recognition as a folklorist through the assistance she gave to such experts as John Allan Lomax and Harold Courlander in their studies of African-American folklore, which brought them to international prominence in this field. She also assisted Carl Carmer in writing his classic, Stars Fell on Alabama. Many of her own stories, character sketches, and articles were published in prestigious journals and books.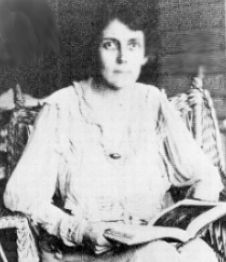 Although she did receive royalties from the Kingston Trio and from Harry Belafonte for recordings based on her discoveries, Mrs. Tartt's work in folklore brought her little monetary reward. She engaged in the study of African-American folklore because of her love for and enjoyment of it, and because of her genuine interest in, and respect for, Blacks and the contribution of the race to American culture.
Mrs. Tartt was a woman of many talents and interests. She served as County Librarian for Sumter County from 1940 to 1964. The public Library in Livingston was named the Ruby Pickens Tartt Library in 1975, in recognition of her contribution in encouraging countless young people to read and appreciate good literature. She was a painter, having studied painting at the Alabama Normal School (now the University of West Alabama), Sophia Newcomb College, and the William Chase School of Art in New York. Her portraits, still lifes, and rural scenes hang in a number of public buildings and are treasured in private collections.
After Mrs. Tartt's death in 1974, her published and unpublished manuscripts were given to Livingston University. The collection contains over 5,000 manuscripts of folklore and local history, including a large number of previously uncollected African-American folk songs, folk tales, and anecdotes. She made a distinct contribution to American literature in collecting African-American folklore and in the short stories she wrote about Blacks in Alabama.