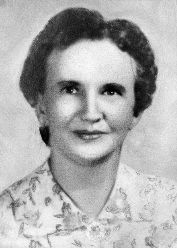 Chamintney "Mittie" Stovall Thomas - remembered for a life of service as a teacher, musician, author, and religious worker - was loved by her family and friends as a woman of unusual depth and great charm.
She was a gifted teacher of piano, organ, violin, cello, and vocal and choral music who saw many of her pupils win statewide awards for excellence and advance to professional careers in music. She was particularly proud of those she trained who became church organists.
She worked tirelessly with the underprivileged, supporting and developing talent where she found it. She worked in Black schools as a volunteer, beginning during the Depression years, to help teachers and pupils enrich programs in music and basic studies.
In addition to her professional and service activities, Chamintney Thomas was the devoted wife of Ralph C. Thomas, Superintendent of Education in Russellville. The couple reared and inspired four children, who became a surgeon, a university department head, a teacher of special education, and a university president.
Chamintney Thomas was also an author of short stories and Bible stories for children. Her historical novel, Hear the Lambs a-Cryin, is essentially an oral history containing extensive dialogue that was transcribed verbatim during the Depression, when she devoted so much of her time in service to the Black community.
As a member of the First Baptist Church of Russellville, she established mission churches in disadvantaged neighborhoods and saw three of these become active churches. Further, she developed libraries in ten churches in her district.
Chamintney Thomas, among her many recognitions, received an orchid from the Birmingham News in 1954. She was named "Woman of the Year" by Delta Kappa Gamma and the Pilot Club of Russellville in 1957, "Woman of Achievement" by the Russellville Business and Professional Women's Club in 1967, and "Citizen of the Year" by the Russellville Junior Chamber of Commerce in 1975.
Her love and warmth brightened the lives of many individuals; her selfless devotion to others served as an inspiration to those who knew her, and her vivid recording of rural life during the Depression is a major contribution to the people of Alabama.