Alabama Women's Hall of Fame
Mary Celesta Johnson Weatherly (1890-1976)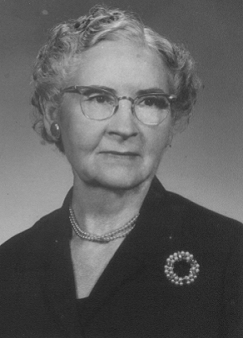 Born in 1890 in Hollywood, Alabama, Mary Celesta Johnson was the daughter of Sara Adeline Washington and Marion Lorenzo Johnson. She entered Alabama College at the age of 15 and became a teacher. She married George Irving Weatherly, a banker, in 1911. They had three children; a daughter who became a teacher, a son who became a physician, and an adopted son who became a businessman.
After starting her family, Weatherly returned to teaching for seven years during the shortage of qualified teachers caused by the Depression. After her husband's death in 1956 she was also a businesswoman who owned and operated two farms. She was named Woman of the Year by the local Business and Professional Women's Club in 1961.
A woman of many interests and accomplishments, two of her most notable successes were the founding of the DeKalb County Library (during the Depression year of 1930), and the establishment of the first local literacy program (for which she served as teacher) in 1961. A popular speaker in the area, Weatherly made 15 speeches in 1961 alone. She was the first woman to serve on the DeKalb County Board of Education. At the age of 65, she learned to drive so she could go to Montgomery whenever she pleased to get books from the Alabama Library Service for the DeKalb County Library.
In 1961, Fort Payne's Mary Celesta Johnson Weatherly, Alabama's Mother of the Year, was sent to New York to compete for American Mother of the Year. Popular opinion was that the honor would go to Clara S. Glenn, mother of John Glenn, the astronaut who electrified the world by successfully orbiting the earth three times the previous February. Mrs. Weatherly was chosen for this distinction, the only woman in Alabama to receive this award to date.
Weatherly was a tireless worker for the American Red Cross, the Heart Fund, and the United Givers Fund. A charter member of the Fort Payne Woman's Club, she also belonged to the Federation of Women's Clubs, the Alabama Literacy Council, Delta Kappa Gamma, the Women's Temperance Union, Landmarks of DeKalb County, and the United Daughters of the Confederacy.
Mrs. Weatherly left a legacy of service to the First Baptist Church of Fort Payne. In fact, Sunday School Classes and Mission Groups are named for her. She taught various Sunday School classes and often had perfect attendance for the year. She was youth leader for five years and served as Royal Ambassador Leader for 25 years. She taught mission studies, led the Week of Prayer program, served as president of the Woman's Missionary Union, and served on the church's pulpit committee.
Mrs. Weatherly died at her home in 1976 at the age of 85.

Other Inductees


Alabama Women's Hall of Fame

2005 Alabama Women's Hall of Fame