During Katherine White-Spunner's 31 years as administrator and director, Mobile Infirmary expanded from 70 to 520 beds. Miss White-Spunner's association with Mobile Infirmary began with her training there as a nurse. She graduated in 1913 in the first class of the school of nursing. She worked as operating room supervisor before moving to positions in Tennessee and Mississippi, then returned to Mobile Infirmary as administrator in 1933.
Miss White-Spunner played an important role in establishing the new Mobile Infirmary on Louiselle Street which opened in January of 1952. She was closely identified with the subsequent enlargement of the infirmary, including construction of a new school of nursing building with accommodations for 125 student nurses.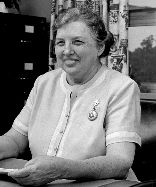 Miss White-Spunner's driving concern during her tenure as administrator and director of the Mobile Infirmary was the care of patients in the hospital. She visited each patient at least once during the hospital stay. She talked with family members and consulted with doctors to be certain that the patients' care was coordinated between doctors and other personnel. She influenced nurses to have the same caring attitude, and she was able to maintain Mobile Infirmary's atmosphere as a patient-centered hospital.
Miss White-Spunner was active in numerous charities, particularly in those involving disabled children. She was a charter member of the Mobile County Chapter of the National Foundation for Infantile Paralysis and later served on the Foundation's medical advisory board. She worked for the development of a convalescent home for disabled children. In 1955, the United Cerebral Palsy Telethon - with Miss White-Spunner as chairman - raised $55,000 for the Beacon of Hope Clinic.
She promoted her profession and was active in district, state, and national organizations. She served terms as president of both the South Alabama Hospital Council and the district nurses' association. She served on the executive committees of the Southeastern Hospital Conference and the Alabama Hospital Association. She also served as president of the Alabama Hospital Association and, in 1961, was the first person to receive the Distinguished Service Award given by that organization. In 1964, the Convention of the Alabama State Nurses Association was dedicated in her honor.
During her lifetime, Katherine White-Spunner earned and received many honors, including that of being selected as First Lady of Mobile in 1955. She truly exemplified the Florence Nightingale Pledge.